Light Up The Night Hillsborough Holiday Parade

The Hillsborough/Orange County Chamber of Commerce is the proud host of the annual Hillsborough Holiday Parade each year! This year's event is scheduled for 4:00 pm on Sunday, December 4, 2022.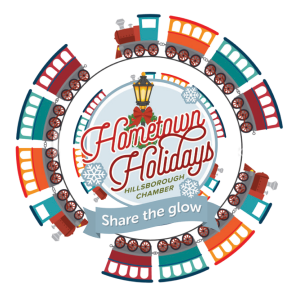 The Hillsborough/Orange County Chamber of Commerce is pleased to announce the return of the Light Up The Night Hillsborough Holiday Parade on Sunday, December 4th, 2022 at 4:00 pm.  Downtown Hillsborough will welcome thousands of residents and visitors to enjoy the popular annual event, as part of the Hillsborough Hometown Holidays Festival season.
The parade will feature dignitaries such as Mayor Jenn Weaver, and Town Board members, followed by bands, local and area businesses, cheerleaders and dance troupes, well-known mascots, this years Grand Marshall, ESPN analyst and Sirius XM radio host, Chris Spatola and of course, Santa Claus. The parade will travel through downtown Hillsborough, south on Churton St from Corbin St to Margaret Lane and end at the intersection of Margaret Lane & Cameron St.. Make plans to join us on the Old Courthouse Square for the annual tree lighting ceremony and community sing immediately following the parade.
Residents and visitors are encouraged to come out early to enjoy some holiday shopping and a bite to eat before the parade, as well as to secure parking and a favorite viewing spot.
GRAND MARSHAL, CHRIS SPATOLA BIOGRAPHY
Chris Spatola is currently a top college basketball analyst for ESPN and a host on Sirius/XM radio.
A graduate of the United States Military Academy in West Point, N.Y., Spatola was a four-year starter on the basketball team from 1999-2002. He was named to the All-Patriot League Team in 2001 and 2002, as well as the All-Freshman team in 1999, and left the Academy as the school's fifth all-time leading scorer.
After graduating in 2002 with a degree in English and a minor in environmental engineering, Spatola was commissioned an officer in the United States Army. During his active duty time he served as a Company Commander and Executive Officer, among other duties, ultimately achieving the rank of Captain. Spatola was awarded the Joint Service Commendation Medal for exceptional combat performance during a deployment in support of Operation Iraqi Freedom, and the Army Commendation Medal for outstanding performance as a Company Commander.
Upon leaving the Army, Spatola was hired by Mike Krzyzewski and was a member the Duke Men's Basketball coaching staff from 2007-2012, a span that saw the Blue Devils win four ACC tournament titles and a National Championship (2010). Also active with USA Basketball, Spatola served as a court coach for the Men's National Team that won gold in the 2008 Olympics in Beijing, China and gold in the 2010 World Championships in Istanbul, Turkey.
In addition to his media work, Spatola also serves as the director of Spatola Basketball Camps, serves on the Naismith Awards Board of Directors, and speaks regularly to community organizations, clinics, and colleges about leadership, his time in the Army and in the game of basketball.