The mission of the Hillsborough/Orange County Chamber Young Professionals Group (YPG) is to empower young professionals in Hillsborough and Orange County through an energetic and dynamic environment of education, networking, and volunteer and social experiences to positively impact membership and the local community.
Young Professionals have a different reality than older, established professionals. Young Pro's are on the move, trying new career paths, climbing corporate ladders, developing leadership skills, navigating the single life, or adjusting to new families.  Our monthly events provide ways to establish contacts, and grow personally and professionally while having FUN! Interested in the Hillsborough/Orange County Young Professionals Group (YPG)?  Contact the Leadership Committee at hillsboroughypg@gmail.com.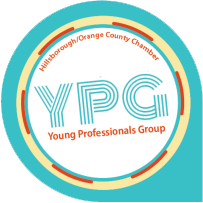 Membership in YPG is open to all professionals aged 21 - 40. YPG is welcoming and inclusive of the diversity of our community. Many Chamber members already have YPG memberships included with their level of investment in our Chamber. See the Hillsborough/Orange County Chamber membership tiers and benefits to learn more, and connect with Kim Tesoro at kim@hillsboroughchamber.com to indicate the names and email addresses of the YPG member(s) in your business.
Invitation to all Young Professional Group's monthly events and activities (networking, social, educational, service, and active)
Assigned a Chamber Member YPG Mentor from a preferred industry (or related industry) for professional development
Access to a growing community of 21-40 year old young professionals who are actively seeking opportunities to develop socially, professionally and civically
Quarterly invitation to Business After Hours for YPG Connect nights to network with Chamber members and learn about Chamber membership
Participate in workforce and business development opportunities through Chamber workshops and seminars
Receive weekly "Hillsborough Happenings" newsletter
Access to low-cost print services (15¢-B&W/per page and 22¢-Color/per page)
Rental of conference room or patio social space (2 hours per month for $35)
Community outreach and volunteer opportunities
Discount admission to Quarterly Enrichment Breakfasts
Opportunity to join the YPG Leadership Committee and take a leading role in motivating young people in our community (must be a Chamber member)
Exposure to the benefits of Chamber membership
Not a part of the Hillsborough/Orange County Chamber yet? For $120/year billed annually or $40 billed quarterly, you will receive access to all of the benefits above. Connect with others your age in the community by becoming a YPG member today.
If you are ready to be a YPG member, please fill out the form below.
The Hillsborough Young Professionals Group (YPG) typically meets on the second Wednesday of each month after work from 5:30 - 7 p.m. at Chamber member businesses. We have monthly networking socials, quarterly "Social+" events, and occasional community service events. Professional development and networking in our community is what we are all about.
Keep up with our latest events by following us on social media (LinkedIn | Facebook | Instagram), checking out the Chamber's Event Calendar, or becoming a YPG member and receiving our email announcements.  View the current 2019 Hillsborough YPG events schedule.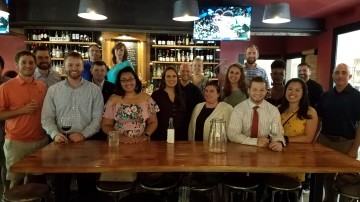 Join fellow young professionals developing leadership skills, networking and impacting our community.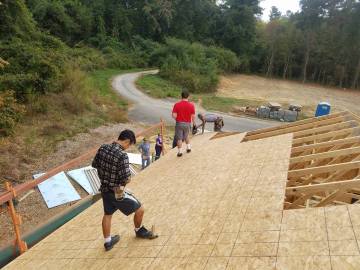 Community Service: Habitat Build
2019 YPG Leadership Committee
The Hillsborough/Orange County Chamber Young Professionals Group (YPG) is guided by a Leadership Committee of committed volunteers that want to see Hillsborough continue to be a vibrant and connected community. If you would like to be a part of the YPG Leadership Committee please indicate it on your YPG member application or email us at hillsboroughypg@gmail.com.
Blake Tedder, Entrepreneur, Chair
Trang O'Connor, Orange County SportsPlex, Vice Chair
Austin Daugherty, Blaser Investment, Treasurer
Jonathan Edmiston, HomeSmart Expert Realty
Evelyn Kreily, Lenovo
Clint Webb, Spectrum
Martrisha Bradshaw, Entrepreneur
Matt Deitz, NC Farm Bureau, Chamber Board Liaison