Hillsborough Candlelight Tour

Each year, the Hillsborough/Orange County Chamber of Commerce is proud to present the Hillsborough Candlelight Tour.
A self-guided tour, Hillsborough Candlelight Tour invites guests to create family holiday traditions while exploring the town's many historic treasures, visiting the local merchants, and becoming a "citizen for the day"! Visitors should expect to find more to do than can be accomplished in one afternoon, so relax and enjoy the stroll!
Hillsborough Candlelight Tour: Books By Candlelight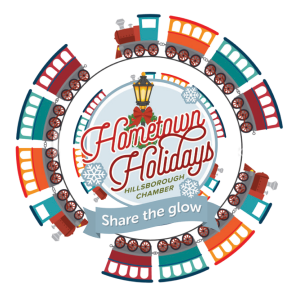 Sunday, December 8, 2019
1:00 to 7:00 p.m. (homes are open from 3pm to 7pm)
The 33rd Annual Candlelight Tour, scheduled for Sunday, December 8th (rain/snow date is Sunday, December 15th), will feature "pop-up" readings by local authors who have celebrated the charm of this small town in various writings as a testimony of their love for the place they live and work. The tradition of opening a variety of private homes and historic sites continues, where visitors will find festive holiday decor, local musicians, and other holiday festivities.
Tickets can be purchased at the link below or in person at the Hillsborough/Orange County Chamber of Commerce, located at 200 N. Churton Street.
There are three ways to enjoy the tour:
The VIP Candlelight Tour: Tickets are $50 and includes a VIP reception from 1:30pm to 2:30pm at Inn at Teardrops with best-selling authors Frances Mayes and Michael Malone, in addition to all the features of the Traditional Candlelight Tour.
The Traditional Candlelight Tour: Tickets are $35 for adults ($28 through Nov. 30), $20 for children ages 10 to 17 ($17 through Nov. 30; children under 10 are free) and includes access to all the homes and historic locations on the tour, miniature train, shuttle service near most locations, visits and picture-taking with Santa & Mrs. Claus, and live entertainment of many flavors including Tea Cup Gin and Shoaldiggers. Homes are open for the tour from 3pm to 7pm, while the music and festivities continue until 8pm in the West Nash neighborhood.
Family Train Ticket: NEW this year, families may purchase a ticket for a family of up to five members for only $20 to ride the miniature train and access family-friendly activities and entertainment at 11 locations, but excludes admission to the private home portion of the tour. Family-friendly activities include visits with Santa & Mrs. Claus, ornament-making, a historic play at the Old Courthouse (show times at 2pm, 3pm, and 4pm), making music with jingle bells, and many more!
Add a very special experience to your Candlelight Tour by purchasing a horse-drawn carriage ride for $15 per person. The carriage will be departing from Burwell School every 30 minutes, beginning at 12 pm and last ride departing at 4:30 pm. Lap children ride free, and you can purchase an entire carriage full (five people) for the price of four (discount applied after all five riders are registered).
A special note for parents: The Orange County SportsPlex is offering Child Care between Noon and 8pm on December 8th! For more information, click here or register here.
**All ticket holders must pick up a wristband from the Hillsborough/Orange County Chamber of Commerce at 200 N. Churton Street on the day of the event to be able to access the Tour. Tickets can also be purchased the day of the event at the same location, which opens at Noon on December 8th. **
For more information call the Hillsborough/Orange County Chamber of Commerce at (919) 732-8156.
Silver Sponsor:
Resolute Building Company