Gingerbread House Contest
2020 Hillsborough Gingerbread House Competition
The event has closed for the year, but we're already planning for 2021!
THANK YOU to everyone who participated, donated or enjoyed this year's amazing event. We all had a blast putting it together and are blown away by the community talent and support we witnessed.
​
YOUR DONATIONS raised OVER $3,000 for the Community Giving Fund's Emergency Housing Assistance program. That is direct help to your neighbors to remain secure in their housing situation. You can still give any time by clicking here and donating directly to the Fund.
23 Entries

​680 Total Votes

$3,200 Raised

Countless Spirits lifted

9 Local businesses supported
Winners receive a local business gift bundle from locations such as:
Volume Hillsborough, Nomad, Carlisle & Linny Vintage Jewelry, Hillsborough Cup-A-Joe, Talbert's Automotive, Habitat for Humanity Restore (Hillsborough), and MORE!
Read more here!
Adult Category Winner: Yonder: Southern Cocktails and Brew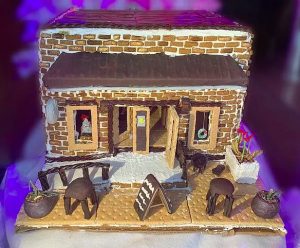 Youth family Category Winner: Alexander-Dickson House